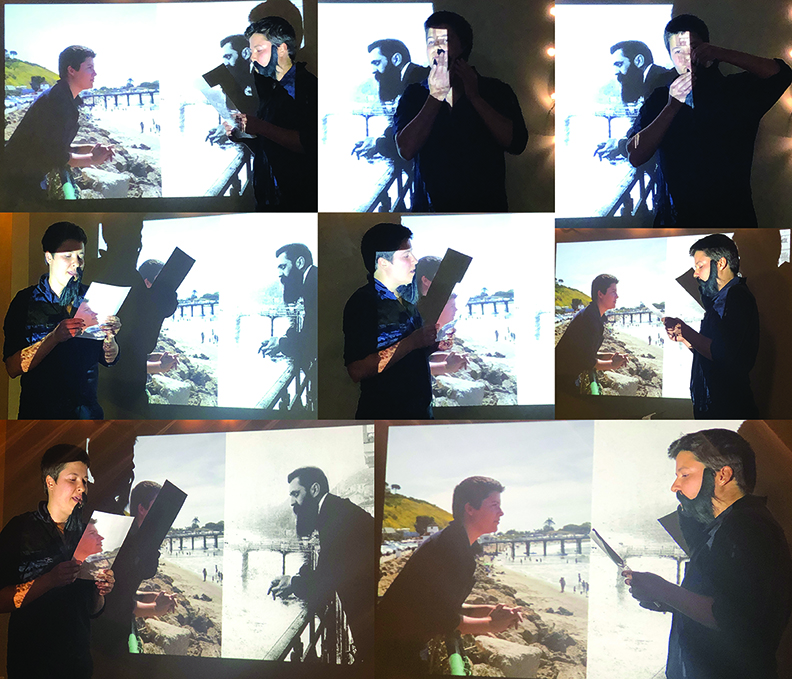 Strengthening the edges of our spirals
A conversation between Theodor Herzl (1896) and Meital Yaniv (2019):
I will be radically honest with you, I was raised to adore Theodor Herzl and his vision. As the father of modern zionism, he was one of my fathers, his ideology indoctrinated me. I think about him when zionist defenders say that what is happening right now in Palestine was never meant to be a part of zionism. In preparation for this conversation, I re-read the pamphlet he wrote in 1896 in Vienna, "The Jews' State," in which he envisioned the state of israel for the first time. I was nauseated to discover a zionistic blueprint for the occupation based in classism, capitalism, Islamophobia and racism. In the following conversation, Herzl's words are directly excerpted from this pamphlet.
TH - The Jewish question exists wherever Jews live in perceptible numbers. Where it does not exist, it is carried by Jews in the course of their migrations. We naturally move to those places where we are not persecuted, and there our presence produces persecution.
MY - It is one thing to say that Jews are the subject of antisemitism anywhere they go.
It is another thing to say that when we migrate to Palestine, the source for our persecution will be antisemitism and not the violent acts we will commit against the Palestinian people.
TH - I believe that I understand Anti-Semitism, which is really a highly complex movement. I consider it from a Jewish standpoint, yet without fear or hatred. I believe that I can see what elements there are in it of vulgar sport, of common trade jealousy, of inherited prejudice, of religious intolerance, and also of pretended self-defense.
MY - I relate to this notion of pretended self-defense. We carry out many atrocious acts in the name of pretended self-defense. We invade, we occupy, we murder, we displace, we destroy, we build walls, we control, we commit genocide. Our inability to intersect antisemitism with the rising powers of white nationalism, under which Jews are not the only victims, is an ignorance we must overcome. The use of antisemitism as a silencing weapon against criticism of the state of israel and the occupation is an extension of our pretended self defense. #istandwithilhanomar
TH - Dull brains might, for instance, imagine that this exodus would be from civilized regions into the desert. That is not the case. It will be carried out in the midst of civilization. We shall not revert to a lower stage, we shall rise to a higher one. We shall not dwell in mud huts; we shall build new more beautiful and more modern houses, and possess them in safety. We shall not lose our acquired possessions we shall realize them. We shall surrender our well earned rights only for better ones. We shall not sacrifice our beloved customs; we shall find them again. We shall not leave our old home before the new one is prepared for us. Those only will depart who are sure thereby to improve their position; those who are now desperate will go first after them the poor; next the prosperous, and, last of all the wealthy.
MY - It's so devastating to hear this ideology about preserving Jewish rights, possessions, home, safety, and customs, knowing the price of that reality. In exchange, we stole and are currently stealing all of that and more from the Palestinians.
TH - We are one people--our enemies have made us one without our consent, as repeatedly happens in history. Distress binds us together, and, thus united, we suddenly discover our strength. Yes, we are strong enough to form a State, and, indeed, a model State. We possess all human and material resources necessary for the purpose.
MY - I'm thinking about the elections in israel, and how the one issue israelis consistently support is the occupation- to the point where no candidate feels the need to mention their views on the subject. Yes, we are one people; our fears and traumas have tangled into a domination force, full of bleeding egos and missteps that are rotting in an archive no one keeps. Scared to trace our steps, all we are capable of is choosing victimhood for our own abuse.
TH - Shall we choose Palestine or Argentine? We shall take what is given us, and what is selected by Jewish public opinion. The Society will determine both these points.
MY - I wish I could be there to burst your Orientalist, privileged Western bubble. How I wish there had been room for dialogue and facilitation between you and the Indigenous people of Palestine, that you had been able to see them as equal and not as an other. How I wish you could have seen them at all.
TH - A State is created by a nation's struggle for existence.
MY - The state of israel's struggle for existence has come at the expense of the Palestinian people. All the while creating fictional propaganda regarding the Palestinian identity, pretending there is no such thing as a Palestinian nation. Adolf Hitler said, "If you tell a big enough lie and tell it frequently enough, it will be believed. He alone, who owns the youth, gains the future. Make the lie big, make it simple, keep saying it, and eventually they will believe it." The state of israel was created on a double standard; erasing one struggle to legitimize our own.
TH - We shall remain in the new country what we now are here, and we shall never cease to cherish with sadness the memory of the native land out of which we have been driven.
MY - This never-forget ideology is born from the wound of the Holocaust, which happened between your death and my birth. The still bleeding, unresolved trauma, allows us to normalize victimhood and self-soothe our monstrous behaviors. Of all the marginalized communities and the peoples who have endured genocide in this world, the Jews are the only one who received a state. I connect this outcome to white supremacy and the fact that the majority of Jews are white.
TH - Army and priesthood shall receive honors high as their valuable functions deserve. But they must not interfere in the administration of the State which confers distinction upon them, else they will conjure up difficulties without and within.
MY - Religion has been controlling this land and the constant expansion of settlements on this land from its inception. The army controls our government, and every aspect of our lives. In 2018, the iDF censored an average of one news piece per day. The army is embedded in our family structure. This makes it so difficult for people to see themselves, their children, their lovers as complicit.
TH -THE FLAG - We have no flag, and we need one. If we desire to lead many men, we must raise a symbol above their heads.
MY - When I see the israeli flag proudly displayed next to an American flag in each and every Jewish institution, I am reminded that my work is here, to shift the Jewish American consciousness. I have fantasies of seeing a Palestinian flag next to those two flags, seeing the word Palestine on each and every map in our Jewish day schools. As a Jewish mentor said to me this year, "we are lying to our kids because we are lying to ourselves." The erasure of the Palestinian flag from the israeli consciousness is so severe that the display of a Palestinian flag inside and outside of the Green Line, which was the border line of israel until 1967, is a cause for arrest by the police.
TH - I think the Jews will always have sufficient enemies, such as every nation has. But once fixed in their own land, it will no longer be possible for them to scatter all over the world. The Diaspora cannot be reborn, unless the civilization of the whole Earth should collapse; and such a consummation could be feared by none but foolish men. Our present civilization possesses weapons powerful enough for its self defense.
MY - The diaspora has been reborn and the unhealed generational trauma of American Jews in the diaspora maintains israel's legitimacy and false security by all means and costs necessary. Israel's occupation depends on one country, and that country is the United States. American Jews' dependence on israel's existence comes from a fear, they need an escape route, a safe haven. You've provided this seed and we've been watering it for decades, supporting an occupation regime for the sake of our fears.
TH - Perhaps we shall have to fight first of all against many an evil-disposed, narrow-hearted, short-sighted member of our own race.
MY - I don't wish to fight. I wish to overcome our fears and look ourselves in the mirror so that we can own our crimes, our complicity, and act from a place of responsibility and accountability. Look at yourself in the mirror and find a way to step up, to show up, to be better than the DNA lineage you transferred to me. After decades of nomadic Jewish migration that was focused on the holy book, on studying, on keeping our heads down, you build this movement. Full of ascending, and ownership, and protection, and toxic masculinity. We needed it, we craved it and look at us now, look what that movement grew into, look what's in our blood now.
TH - Will people say, again, that our enterprise is hopeless, because even if we obtained the land with supremacy over it, the poor only would go with us? It is precisely the poorest whom we need at first. Only the desperate make good conquerors.
MY - The definition of Conquer is: "to gain or acquire by force of arms, to overcome by force of arms, to gain mastery over or win by overcoming obstacles or opposition, to overcome by mental or moral power." Here it is, the beginning of our legacy and zionists dare to stand in this light, in your light and tell me it was supposed to be different.
TH - Here it is, fellow Jews! Neither fable nor deception! Every man may test its reality for himself, for every man will carry over with him a portion of the Promised Land -- one in his head, another in his arms, another in his acquired possessions.
MY - …another in their bloody hands, another in their PTSD, another in the crevices of their heart, another in the trauma they'll pass through their lineage.
TH - The Jews who wish for a State will have it. We shall live at last as free men on our own soil, and die peacefully in our own homes.
MY - This soil is dying because we weren't taught to share our freedom, to weave our struggles, to connect to this earth, to emerge as one body.
TH - And whatever we attempt there to accomplish for our own welfare, will react powerfully and beneficially for the good of humanity.
MY - For the good of humanity… I will use my imagination as a healing weapon to share my vision with you. What if israel were to offer a grand gesture, one that cannot be seen from two sides. What if we break down the fortified walls on our current borders, abandon our checkpoints and security bases and move back to the original 1948 borders when we declared the establishment of the state of israel. What if we gift Palestine the billions of dollars we receive from the USA with no attachment or demands, just a transparent gift. What if we restructure our education systems and use the money we currently spend on defense to take a collective year off. A year to engage in accountability processes in our communities, practicing transformative justice to see our complicity and heal together. What if we let the elements around us shine from within us, what if we exit the war, what if we offer ourselves as allies to the Palestinian people, helping them in whatever they ask of us. What if this is how we are finally healed.